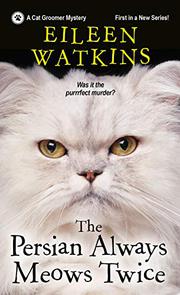 A cat groomer boarding the cat of a slain millionaire suspects
her feline tenant may be the missing piece in solving the murder.
After moving to Chadwick and opening her own cat grooming and
boarding facility, Cassie's Comfy Cats, Cassie McGlone is feeling pretty comfy
herself. She's happy to be around friends and out of the sight of Andy, the
recent ex whose anger issues upset her almost as much as his treatment of her
three feline companions. Cassie is delighted that she's been recently hired by
George DeLeuw for the regular grooming of Harpo, a cream-colored Persian with a
tendency to mat. Not only is DeLeuw a generous and loving owner to Harpo, a
purebred who proved a worthless financial investment; providing routine
services to such a well-heeled client has become a dependable income stream for
Cassie. This time, however, Cassie shows up for her customary service call only
to find DeLeuw's body and realize that he's been killed. Though she doesn't
have a background in investigating, it's easy for her to do enough digging to
figure out who might have reason to murder such a kind man. At first her poking
around isn't welcomed by the detective on the case, Angela Bonelli, but
eventually the two are able to coordinate their efforts to learn about DeLeuw
more efficiently, and Cassie offers to care for Harpo until the will is
settled. When other people from DeLeuw's life suddenly show an interest in
Harpo's well-being, Cassie suspects that learning more about the cat may
provide the key to DeLeuw's death.
Fans of felines will appreciate Cassie's demonstrated attachment
to the master species, which Watkins successfully integrates throughout her
debut, a deft blend of mystery and cat love.